Rent your dream villa in Guadeloupe, at the best price!
Sea view, swimming pool, close to beaches, find the ideal villa for your vacations in the Caribbean's French West Indies 😎
3000+ Satisfied Travelers
Covid No Fee Cancellation
Outstanding villas
We visit each villa and select the most prestigious ones in order to offer you the crème de la crème 👌
15% cheaper than AlRBNB
Our villas are sometimes visible on other travel sites, but ZeWelcome will always be cheaper 💪
A concierge who cares
Be relaxed from start to finish! Your dedicated concierge will help you prepare for your stay and greet you in person 🤵
---
Our accommodations rentals in Guadeloupe
Discover our exceptional accommodations: villas, houses, bungalows, gites, apartments and studios. Our wide selection of vacation rentals caters to all budgets and desires.
Have the stay you want!
Are you looking for sport, adventure or relaxation? Find the most suitable accommodation for your program.
A question? Contact our team
Reviews from our travelers ❤️😊
ZeWelcome
http://zewelcome.com
5/5

Accommodation with a magnificent view of the ocean! Equipment at the top! Perfect pool! Patrick's welcome is exceptional! Can't wait for our next stay!
ZeWelcome
http://zewelcome.com
5/5

We had a very pleasant stay in this beautiful villa above the waves. Alain's advice, availability and friendly courtesy were a great help, we will be back!
ZeWelcome
http://zewelcome.com
5/5

We spent a dream vacation for the end of the year with our family, the place is magical with a superb view of the Caribbean and the islands. I would like to thank ZeWELCOME in particular for their professionalism and seriousness as well as the concierge who was very attentive to our needs. I advise you without any hesitation and wish you an excellent stay. GB
Advice from local people
Guadeloupe has been our home for more than 20 years. A question about the ideal place for your vacations ? Send us a message, we'll get back to you within the day 😉
Easy & secure payment
Our prices are all inclusive including cleaning and taxes, with a secure online payment by credit card or bank transfer
Covid19 cancellation guarantee
Book without risking a euro. We will give you a full refund at no cost if the provisions put in place by the state make your stay impossible.
See our cancellation conditions
🧘
Need flexibility?
As soon as your reservation is finalized, you will have the option to subscribe to our partner Trustiway's
travel insurance
: Cancellation for all justified causes, Interruption of stay, and Covid.
ZeWelcome.
Who we are
ZeWelcome is an agency of seasonal rental, which puts at your disposal a wide range of vacation accommodations: villas, houses, bungalows, cottages, apartments, studio...
We visit and select all the properties that we propose to you, in order to guarantee you the best framework for your unforgettable stay in Guadeloupe, and on the islands of its archipelago.

Our slogan, "Pa ni pwoblem". If you don't know what it means yet, you'll find out as soon as you arrive in one of our accommodations.

So, let yourself be transported by the sweetness of life in our Caribbean region.
The ZeWelcome team
Alain, Cécile, Jean-Philippe, Sébastien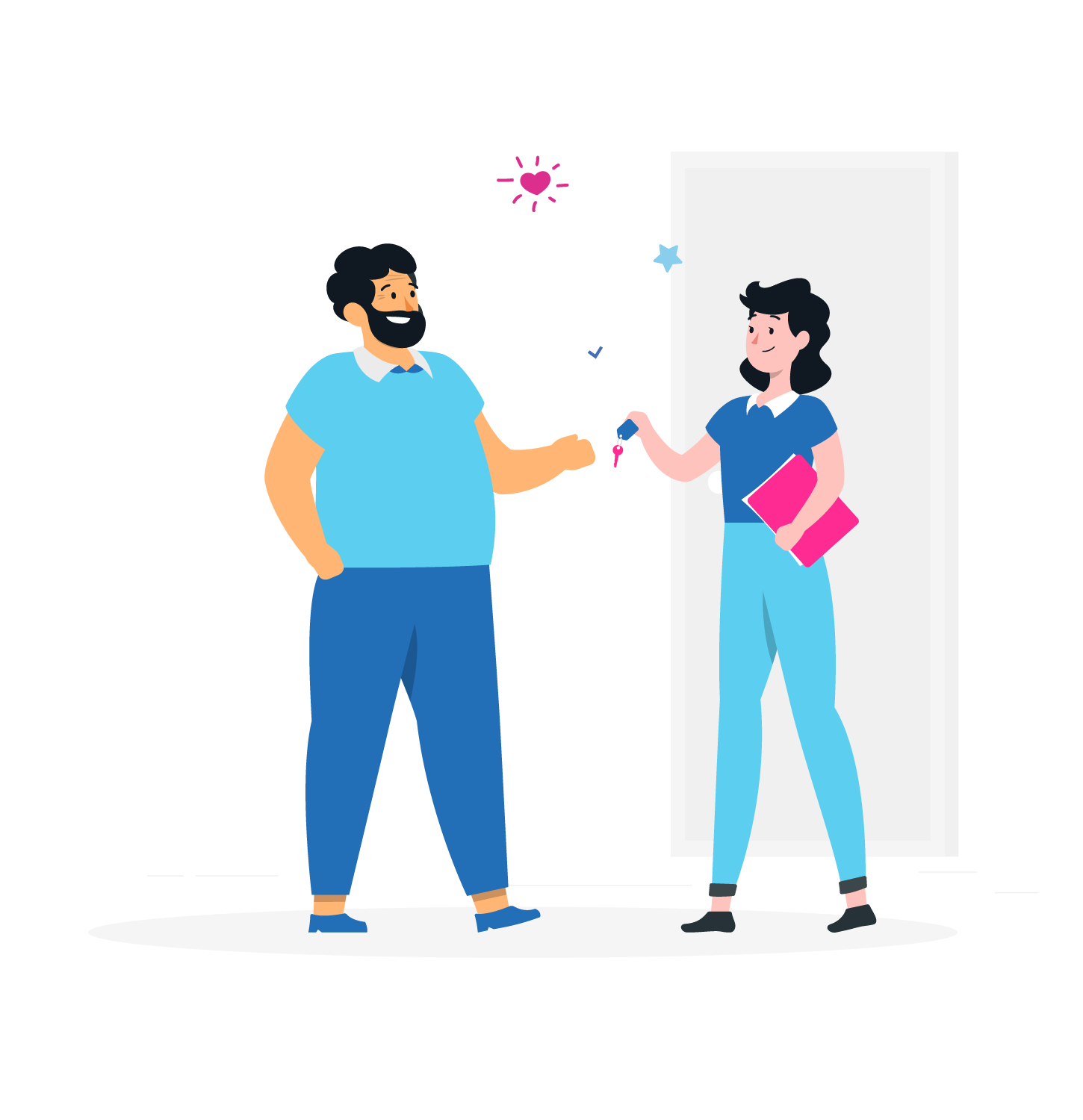 You are an owner or a concierge?
Let's work together
ZeWelcome is above all a large network of tourism professionals in Guadeloupe. For more than 3 years, we have simplified the life of dozens of accommodation owners, and we work hand in hand with the best concierges on the island!
Rent a villa in Guadeloupe with ZeWelcome
Guadeloupe is a paradise island in the French Caribbean known for its ideal setting for a tropical vacation! Our website offers a wide selection of vacation rentals in Guadeloupe. Enjoy renting villas in Guadeloupe or apartments for unforgettable vacations with your family or friends. Unlike hotels, renting a house in Guadeloupe allows you to have pleasant and comfortable stays in a calm, private, and privileged environment.
Places to Rent Accommodation in Guadeloupe
Separated into
two main parts, Basse-Terre and Grande-Terre
, the island of Guadeloupe is often compared to a butterfly. These two wings of the butterfly are completely unique, allowing you to experience very different landscapes within just a few kilometers.
Breathtaking lush forests, stunning sea views, fine sandy beaches, or endless sugarcane fields
, you'll be spoiled for choice when it comes to the location of your rental in Guadeloupe, depending on your desires and preferences.
We offer a wide range of accommodations to suit everyone: luxury villa rentals in Guadeloupe, villas with Creole or modern design, villas with pools in Guadeloupe, villas on the lagoon of Saint-François, villas with sea views, luxury houses, high-end apartments, affordable studios...
Discover villa rental rates by city:
Renting a Villa in Guadeloupe: How to Choose Your Vacation Rental?
How do you choose a house or a villa to ensure an unforgettable stay in Guadeloupe? There are several factors to consider. Firstly,
the number of travelers will determine the number of beds and rooms needed
. We offer a wide range of options, from a 2-person apartment to a 7-bedroom villa for 20 people. The majority of our rentals in Guadeloupe have a garden with a pool.
What's the Best Place for a Vacation Rental in Guadeloupe?
The Guadeloupe archipelago is full of breathtaking landscapes and incredible richness, and your experience will vary depending on where you stay in Guadeloupe, whether on the main island or the islands of the archipelago: Les Saintes, Marie-Galante, and La Désirade.
Renting a Villa on Grande-Terre
Grande-Terre is known for its
numerous paradisiacal beaches
, each more beautiful than the next, as well as its
water sports activities
. If you're a fan of water sports, Grande-Terre is the place to enjoy surfing, windsurfing, wing foiling, and kite surfing! It is also a more populated part of the island with developed towns where you'll easily find
shops, excellent restaurants, lively beach bars, and small fish and spice markets
. In Grande-Terre, we offer, among others, house rentals with a semi-private beach directly connected to your garden: rent a villa on the lagoon of Saint-François, one of the most popular places in Guadeloupe.
Renting a Villa on Basse-Terre
Basse-Terre is wilder and lush, with its terrain offering
walks and hikes
in the tropical forest around the Souffrière volcano, with many waterfalls that are worth a visit. The terrain makes it easier to rent villas in Guadeloupe with sea views. There are fewer beaches in Basse-Terre than in Grande-Terre, but overall,
the underwater landscapes are richer
and the beaches are equally beautiful!
Which Is Better, Grande-Terre or Basse-Terre?
Guadeloupe is beautiful, and you won't be disappointed regardless of your vacation rental location. However, it can take over an hour by car to travel from Grande-Terre to Basse-Terre, so a popular option is to rent for 1 week on one part of the island and 1 week on the other to fully enjoy your stay.
If you dream of paradise beaches, high-end restaurants, a lively nightlife, and water activities, then Grande-Terre is recommended
. If you're more of an adventurous type, enjoy hiking, swimming in waterfalls, and snorkeling, then consider looking at Basse-Terre or Gosier, which provides easy access to Basse-Terre.
What about the Islands? Les Saintes, Marie-Galante, La Désirade
The advantage of these islands is that there are
daily boat connections to Pointe-à-Pitre and Saint-François
, allowing for day trips. To fully enjoy them, you can stay there for a few days, but if you want to keep your options open,
it can be interesting to rent your vacation accommodation in Saint-François and visit these islands as day trips
with a round trip by ferry.
Renting a Villa with or without a Pool?
Renting a house in Guadeloupe with a pool is truly a dream, as it adds tremendous value to fully enjoy your rental accommodation. Whether with family or friends,
a house with a pool is perfect for refreshing yourself, lounging around, and it provides a lot of fun
. For Instagram enthusiasts, renting an infinity pool (or
infinite pool
in English) is a must for stunning vacation photos. Villas with pools can also be a great choice for young children who often enjoy cooling off in the water. In this case, it's important to pay attention to their safety and prioritize vacation rentals that have a fenced pool or a safety net. Feel free to ask us if you have any doubts.
Renting an Apartment in Guadeloupe
Sometimes it can be wise to rent an apartment for your stay in the Caribbean. Apart from the cost-saving aspect of an apartment or studio, if it's located in the city center, it can
reduce the need for a car and allow you to walk around more often
. Additionally, facilities like a communal pool or the restaurant in the residence can appeal to certain travelers for their convenience.
Our Selection of Villa Rentals and House Rentals in Guadeloupe
Based in Saint-François, the ZeWelcome travel agency specializes in exceptional vacation rentals in Guadeloupe. To ensure the quality of the villas offered on our website,
each house has been visited by a member of our team
to provide you with the best selection of vacation accommodations in Guadeloupe. We strive to provide a complete description of the accommodations on our website, including details of each vacation rental, descriptions of each room, activities available nearby, the exact location of the villa, and numerous photos.
Whether you prefer a relaxing stay in a peaceful setting or a lively stay in a rental house close to many tourist activities, you will find the best rates for short-term rentals in Guadeloupe on our website.
Vacations in Guadeloupe for Every Budget
We offer
vacation rentals to suit all budgets
: luxury villa rentals, prestigious villas with pools, houses with sea views, as well as apartments and cottages that are more suitable for average budgets. Furthermore, we are expanding our catalog with affordable rentals in Guadeloupe, including bungalows and budget-friendly studios, to cater to smaller budgets and offer affordable prices year-round.
Save Money on Your Rental in Guadeloupe with ZeWelcome
Regardless of your choice among our 80+ vacation accommodations, ZeWelcome allows you to
save between 5% and 25% compared to other well-known rental sites like Airbnb, Booking, or HomeAway
. We also list our accommodations on these platforms, but by booking through our website, you deal directly with us,
avoiding any commission fees
. That's why
ZeWelcome will always be cheaper than any other website
and will always offer you the best prices available on the market.
Exceptional Service Quality with Your Dedicated Concierge
Each reservation allows you to
benefit from the services of a professional concierge
, whose role is to assist you in preparing your stay before, during, and after your arrival. You'll communicate with them via phone or WhatsApp starting from your booking, and it's your concierge who
personally welcomes you on the day of your arrival
. Your concierge will do their best to allow you to drop off your luggage as soon as you arrive on the island of Guadeloupe. For example, it's sometimes possible to arrange an early check-in or a late checkout if the conditions permit.
Feel free to
contact our team
if you have any questions. We can provide recommendations based on your needs and preferences.